This weekend Cheryl and I went to Ohio for her Aunt Bev and Uncle Chris' 30th wedding anniversary. It was a surprise party thrown by their three kids, and many friends and family came out for it. Because they occasionally read my blog, I couldn't talk about it until after the party was over. Cheryl, Loren, and I flew in Friday evening and all the surprise family guests in town went for dinner near our hotel. The party was on Saturday. Here are some pictures from that event.
Because blogger is once again refusing to upload pictures (why do I still use this service?), I'll start with Part Two and will post Part One later.
After the event, because it is Ohio and I guess they are hurting for entertainment, we went to a giant pumpkin drop. They hoist a giant pumpkin up by a crane, and then drop it onto a car. We just missed the actual drop as we hurried towards the crowd, but we did get a picture of the giant pumpkins on display.
Sunday morning Aunt Barb and Uncle Dave headed out early, so we took Loren to the breakfast room at the hotel, still in her PJs for some good-bye pictures.
Loren with Barb and Dave.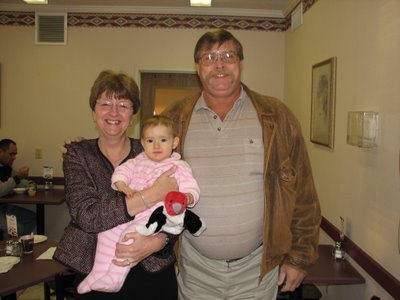 Loren with her Great-Grandpop.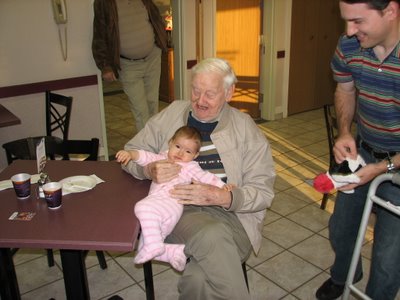 Later we went back over to Bev and Chris' to hang out, eat, and watch Loren play with Great-Grandpop's walker, which she loved pushing all around.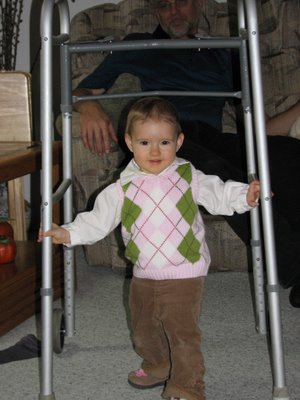 Loren slept through Church and slept through the plane ride back to NYC, so it was not a bad return experience. She didn't go to bed last night until 10 PM, however, due to all the excitement from the weekend (we believe).
This week I am taking it easy, catching up on TV, and working a reduced schedule since I worked over 130 hours for the first half of the month. Cheryl has a big report due so she is going to have some long nights and I'm on baby duty for the evenings for the next couple of weeks.
NYC